Details

Hits: 2102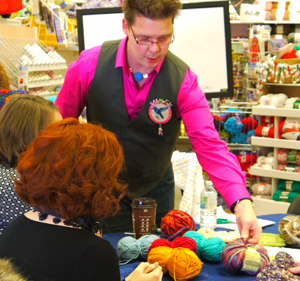 Fall 2012 Exhibit: Crochet Carnival
Daniel Zondervan came up with the concept of Crochet Carnival in April 2012. In helping to celebrate Creativ Festival's 25 Silver Anniversary, he thought it would be awesome to celebrate along with Creativ using a festive, happy and colourful scheme. Crochet Carnival was born.
We have a number of activities happening at our booth #349 on the show floor. I'm teaching 5 courses that are part of the festival's conference program. Courses are listed below. We are close to selling out all courses. I opted for only 10 students so that learning would be better and more hands on with help being readily available.
Our show floor sales, which help fund our costs for the exhibit and show floor feature. We are carrying 6 different company's products. They include:
Schacht Weaving Looms & Autographed How to Weaving Book.
Red Marked 20% off
Buy 5 Things Deal Include Everything Below:
Handbegh Felts - We have 95% of the product line available in small quantities only.

H.A. Kidd & Company Impliments, Yarn Organizer and Tote Cases/Bags.

Red Heart Boutique Yarns which include Chic, Treasure, Ribbons, Magical, Eclipse, Swerve & Changes. Most of these lines we have the majority of the colours available but limited to only 12 balls of each.

Susan Bates, Impliments for Crochet and Knitters.

Gleeners

We have some Red Heart Yarn left over from last show that we have marked down for clearance.
In working with the festival for a couple years, we know that consumers come to the festival looking for sharp deals. We have worked with our suppliers to provide a better price point.
We are offering Buy 5 Red Marked Products or More, Take another 20% Off.
Excluding

Schacht Weaving Products.

Items purchased for Donations for Crafting For A Cure, ie yarn shakes, elephant donations and yarn candy by Helpertunity have no tax and are not included as part of the 20% off. Proceeds benefit Carfting For A Cure's Children Programs.
Exclusive Crochet Workshops
At Creativ Festival on October 12 - 14th, 2012. I will be teaching 5 courses on crochet. Courses will vary in times and will be conducted in our display area on the show floor. Most of these courses will be taught prior to the opening of the show floor. Limited seating of
only 10 people per course. Each participant will get a free crochet hook compliments of Unique® and yarn will be donated by Red Heart.
How To Sign Up
Go to Creativ Festival's Website for more information on course dates, times and course reservations phone line. These dates will be between October 12 - 14th. Each course is only running 1 time throughout the show. I am not involved in the sign up procedure or payment process of these courses. Course prices have been determined by Creativ Festival. Please contact Creativ Festival for course availability and booking your seat. I am not made aware of any bookings of my courses but I am usual
ly notified when the courses are sold out. Courses are sold on a first come, first serve basis. Updates here when courses are sold out will be made.
Courses begin booking by phone on July 31st, 2012
Courses are as follows:
Just Hook It (10) Beginner - SOLD OUT

Here's your chance to try crochet in a small cozy group. This light, entertaining hands-on approach will reveal and help you master the basics to become a hooker too!

1.5 Hour Workshop
---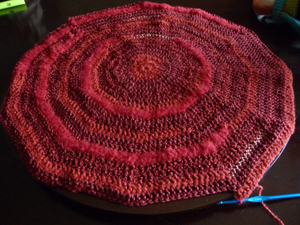 Carny Carousel Rounds (10) Adv Beginner

The Crochet Carousel you'll find in Mikey's booth was created with crochet rounds. Let's debunk crochet circles. Forget about counting stitches after the first few rounds and enjoy crochet the way it should be. Leave with a better understanding to crochet hats, doilies, rugs and more.

1.5 Hour Workshop
---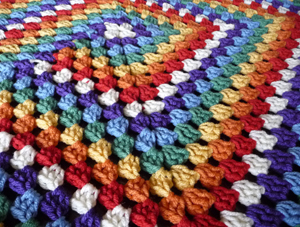 Never Ending Grannies (10) Adv Beginner - COUPLE SEATS LEFT

Extremely popular is the granny square that never ends. Using three colours, we will explore how to get started and keep you from getting tangled in yarn. Never slip stitch again and see how to create hypnotic spirals in your granny square afghans.

1.5 Hour Workshop
---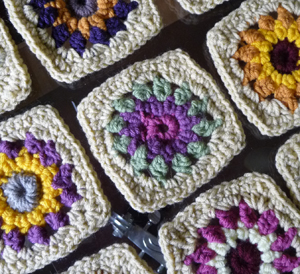 Flower Infusion Grannies (10) Intermediate - SOLD OUT
The most requested crochet course is for grannies that have flowers in the middle. Just by changing colours and using the same pattern, the end results are a cheerful flower afghan.

3 Hour Workshop
_________________________________________________________________________________________________________________________________________________________________________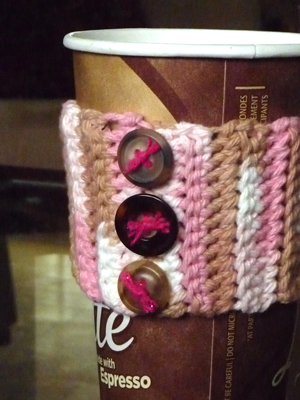 Afternoon Delight Sleeves (10) Experienced Beginner - COUPLE SEATS LEFT

Coffee/tea cup warmer sleeves are trendy and environmentally friendly with an added bonus of not letting paper cups burn your hands. Crochet up your own re-usable sleeve while enjoying light refreshments. Bring: 3 buttons (.75″ to 1″ diameters) or buy them at the festival.

1.5 Hour Workshop